Biography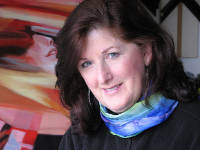 Norma is an award winning West Coast artist. Jackson's diverse portfolio has garnered international acclaim and has appeared in exhibits in Canada and the US. Cross medium exploration has become the voice through which Norma Speaks. From professional marionette theatre direction, therapeutic arts, and hospice work to fine arts, Jackson strives to combine them all in a creative expression that moves the viewer.  As a regularly commissioned artist, Jackson produces a wide range of images from portraits to modern abstract utilizing water, acrylic and mixed media. 
Norma's Background in the Arts
Norma's interest in drawing and painting began in her early Victoria, BC years when spending long summer hours at the family's cottage on an island in Shawnigan Lake. She began drawing and painting what she saw at the lake with anything she could find available. Life circumstances changed and Norma's love of art was put aside for many years.
She became an experienced para-legal, later an administrator of several societies, including the Development Officer for the Nanaimo Festival Society in its inaugural year. This position was the bridge to the world of the "arts".
Norma's life then went in a totally different direction. She calls it her, "Training Years". She began a period of exploration. She spent over 15 years, doing extensive research and study in the fields of the World's religions, philosophies, various yogas, psychology, and natural health practices from a wide range of cultures. Norma spent 4 of those years training in Mind/Body medicine becoming a certified practitioner and Instructor. She had a successful practice over 17 yrs. specializing in the underlying emotional, mental and spiritual causes of stress related illnesses. She taught classes at Vancouver Island University and Community Centres.
Community Service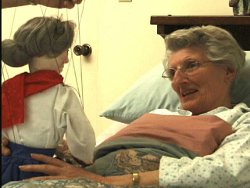 At the same time, as a service to the community, she devoted many years co-pioneering and managing a professional marionette theatre company that became nationally known. The company was set up as a non-profit society to serve the community. Performances ranged from hospital beds and senior care wards to children s groups and large stage theatre productions. The latter work broadened her understanding of the therapeutic potential of the marionettes to educate, uplift and communicate on an individual or collective level to promote healing.
She is known as a Master puppeteer, skilled as a performer, director and producer. As the Company's artist, Norma further developed her artistic skills in acrylics, sculpting, set design and prop building.
As the performance side of the Marionette Theatre came to an end, her "Training Years" were over. She started developing and using the "art of marionettry" with the "art of healing" in therapeutic art, drama & puppetry programs. She has worked with children and adults including the terminally ill.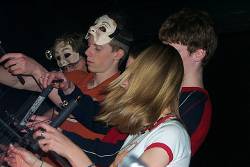 Norma worked with over 40 teens when contracted to develop and implement a youth suicide intervention program she has named, "Staying Alive", which was later defined by Health Canada Official as one of the "best practices" in North America. An article on her "Staying Alive" program appeared in "Puppeteers of America" magazine.
Over the years, Norma has appeared several times on BCTV, has appeared nationally on CBC's Wayne Rostad's, "On the Road Again", and has been interviewed by CBC's Sheryl MacKay on North by Northwest.
Norma now works  in her studio developing and creating original fine art pieces and works will contract to train others to use her developmental programs.